iti 2nd year drawing Answer key 13/12/2021
iti 2nd year drawing Answer key 13/12/2021 : – जैसा कि आप लोग जानते हैं कि आपकी परीक्षाएं नजदीक हैं और आप की परीक्षाएं ऑनलाइन होनी है जिसमें आपको iti drawing भी पढ़ना होगा क्योंकि यह सब्जेक्ट भी उतना ही महत्वपूर्ण है जितना बाकी और सब्जेक्ट इसीलिए आज मैं आपके लिए iti E.D paper का MCQ Question लेकर आया हूं जिसमें से आपको 25 सवाल मिलेंगे आज है जो आपकी परीक्षा के लिए महत्वपूर्ण है ऐसे ही सवाल आपको अपने एग्जाम में देखने को मिल जाएंगे धीरे-धीरे करके और mcq टेस्ट भी आपको यहां itiquestionbank.com पर देखने को मिल जाएंगे ITI 1st Year ED Question paper 2021.
PAPER – III
GROUP I
(FITTER, TURNER, MACHINIST, MACHINIST GRINDER, MECHANIC MACHINE TOOL MAINTENANCE, OPERATOR ADVANCE MACHINE TOOL, MECHANIC MOTOR VEHICLE, MECHANIC AGRICULTURE MACHINERY, MECHANIC REF. & A.C, CENTRAL AIR CONDITIONING PLANT, MECHANIC MINING MACHINERY, TOOL & DIE MAKER (DIES & MOULDS), TOOL & DIE MAKER (PRESS TOOLS, JIGS & FIXTURES), MARINE FITTER, AERONAUTICAL STRUCTURE, SPINNING TECHNICIAN, TEXTILE WET PROCESSING TECHNICIAN, WEAVING TECHNICIAN, TEXTILE MECHATRONICS, PAINTER GENERAL, MECHANIC MAINTENANCE (CHEMICAL
PLANT), REFRACTORY TECHNICIAN)
ENGINEERING DRAWING (11″ YEAR) (ANNUAL EXAMINATION) TWO YEAR TRADE
Time : 3HRS
MARKS: 50
Notes: Attempt all question.
1- Draw two views free hand drawing of Domed cap nut.
2- Draw a Snap head rivet suitable of shank diameter 20 mm.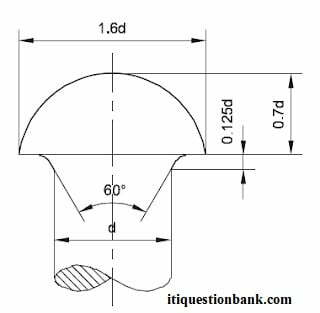 3- Draw a Parabola directrix ordinate method of focus is at 50 mm.
4- Draw the following three views of front view, side view and top view of Bushed journal bearing assembly the diameter of shaft is 30 mm.
Answer -4